Yoo Chae Rin was Han Hi Soo's "girlfriend." She is a supporting character but later turns into the antagonist.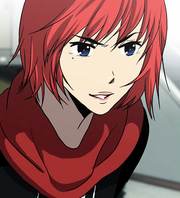 Appearance
Edit
Chae Rin has red chin-length hair and blue eyes.
Personality
Edit
She is very cheerful and show great interest on vampires. This is shown as she get excited when she meet Ma Ri and wanted to be friends with her. However when Si Hoo reveal that he is going to marry Ma Ri, she was filled with jealousy and attack Ma Ri by revealing to the whole school that she is a vampire. At the end of chapter 119, both Chae Rin and Si Hoo disappear as Si Hoo claims that his kind of vampire is no longer allowed to exist.